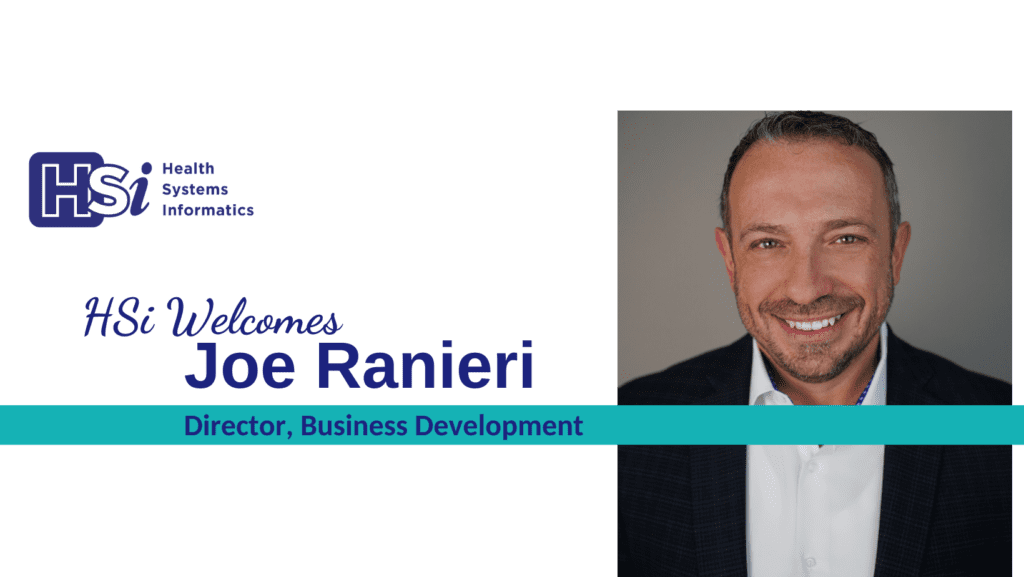 Bainbridge Island, Wash., September 1, 2022—Health Systems Informatics (HSi), a healthcare consulting and solutions firm, welcomes Joe Ranieri to its leadership team as Director, Business Development.  Ranieri will enhance client partnerships in the Eastern and Midwest United States.
As HSi seeks to work more closely with our clients, we are delighted to bring Joe aboard and introduce him as a skilled and experienced partner for hospitals and health systems in their search for consulting resources.  HSi Executive Vice President, Scott Generazo, elaborates, "We are pleased to welcome Joe Ranieri into the HSi family as our newest member of the Business Development team.  Joe brings almost 20 years of sales experience in a wide variety of verticals and has been a proven performer throughout his years in the healthcare industry.  His relationship-building skills, professionalism, and attention to detail coupled with industry knowledge make Joe a great match for HSi as we continue to grow.  I am confident that he will contribute to the growth goals of our company."
With a focus on building relationships and an eye for details, Ranieri has helped numerous clients facing challenges specific to EHR / EMR and ERP implementations, integrations, upgrades, and Go-Lives.  He looks to provide an elite level of customer service extending beyond the contract and includes continued follow-up to ensure his clients' current needs have been met and new needs are addressed.
"HSi is fortunate to be adding a dynamic, experienced talent like Joe to our Sales team.  His genuine desire to find solutions for his customers partnered with the expertise and skill of HSi's consultants make for a winning combination to bring to his customers," comments Stephanie Hojan, HSi President.
Referring to HSi's maxim of Transforming Healthcare IT for improved Quality, Experience, and Value, Ranieri summarizes, "I am grateful to be part of the HSi team; we come together to fully understand our clients' needs and recognize the importance of building lasting relationships."
About HSi
Now in its 11th year, Health Systems Informatics provides affordable, IT consulting services to a diverse healthcare clientele across the US. HSi is built on a foundation of robust, diverse, healthcare talent and a "clients as partners" business philosophy. With expertise both wide and deep, consultants meet an array of needs such as strategic services, vendor selection management and support, clinical informatics, data and analytics, EHR implementation and support, system and process optimization, meaningful use strategy and execution, project and change management, and legacy system support.
For details about our core services, client case studies, and insight from our consultants, visit the website at hsi-corp.com. Look for HSi on LinkedIn, Facebook, and Twitter.
###
Media Contact:
Danielle Sage
1-844-HSi-CORP (1-844-474-2677)
danielle.sage@hsi-corp.com