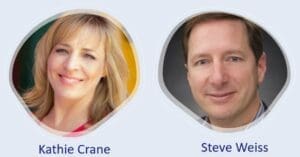 Bainbridge Island, Wash., November 18, 2021 —Health Systems Informatics has promoted Kathie Crane and Steve Weiss to Senior Directors of Consulting Services. This critical HSi role supports the company's commitment to consultant professional development, mentorship, and hands-on management.
"Our goal is to deliver maximum value to our client healthcare organizations in every project which we are engaged," Chief Operating Officer Stephanie Hojan said. "That starts with consultants who are empowered and supported to offer the best service possible. Kathie and Steve, in their new roles, will provide strong leadership for the consultants to help us live up to that promise."
A resident of Tucson, Arizona, Crane is an accomplished nurse and clinical informaticist having worked for HSi for eight years. With over 20 years of systems and operations expertise, she has led and assisted healthcare organizations in implementation, upgrades, and optimization of EHR and other systems.  Bringing passion for the use of technology, clinical workflow optimization, and regulatory knowledge to the table, Crane serves as an inspired and informed liaison between clinical and IT leaders.
Weiss began consulting for HSi five years ago. Now a resident of Auburn, Indiana, he began his work in IT and informatics 17 years ago, bringing 15 additional years of experience in critical care nursing with him. An experienced healthcare organization senior leader, Weiss has created organizational structures for the implementation and governance of EHRs and other key initiatives. His energy and desire to assist organizations in improving department management and day-to-day operations while navigating relationships across all stakeholders, make him an invaluable resource.
"Kathie and Steve are committed to HSi's values and culture," Hojan said. "The complement of experience and skillsets they are able to share with our consultants make them great mentors and key contributors to the company's success as HSi continues to grow."
About HSi
Now in its 10th year, Health Systems Informatics provides affordable, IT consulting services to a diverse healthcare clientele across the US. HSi is built on a foundation of robust, diverse, healthcare talent and a "clients as partners" business philosophy. With expertise both wide and deep, consultants meet an array of needs such as strategic services, vendor selection management and support, clinical informatics, healthcare information, and analytics EHR implementation and support, system and process optimization, meaningful use strategy and execution, project and change management and legacy system support.
For details about our core services, client case studies, and insight from our consultants, visit the website at hsi-corp.com. Look for HSi on LinkedIn, Facebook, and Twitter.
###
Media Contact:
Danielle Sage
1-844-HSi-CORP (1-844-474-2677)
danielle.sage@hsi-corp.com