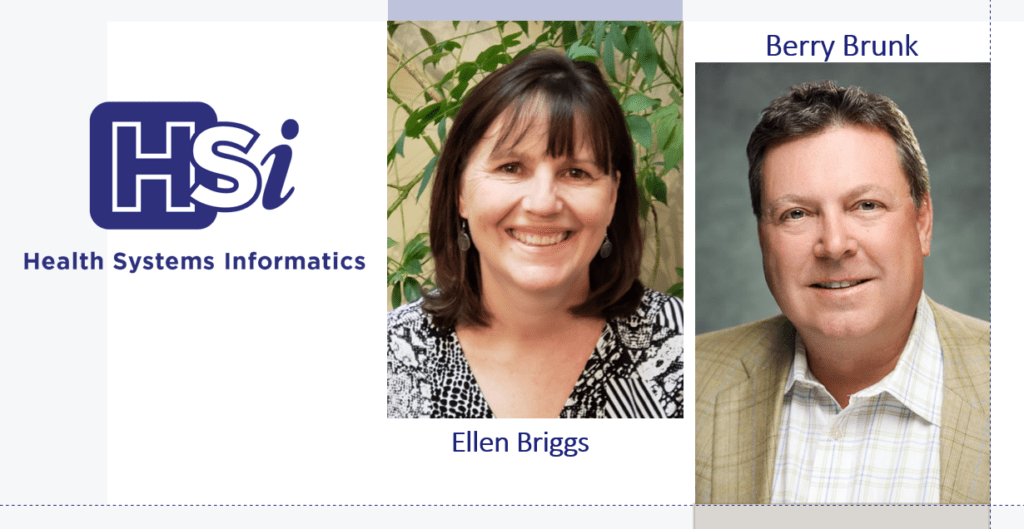 Bainbridge Island, Wash., March 10, 2022— Health Systems Informatics (HSi) is excited to announce two additions to its executive team.  In support of its continued growth, HSi has promoted Ellen Briggs to Vice President, Finance, and added Allen "Berry" Brunk, Vice President, Eastern Region, in charge of development in the eastern US.
Ellen joined HSi in 2019, serving as controller assisting leadership with financial analysis and strengthening overall financial performance.  Prior to joining the HSi team, she served as CFO at a software development firm and as a Tax Specialist.
HSi President, Stephanie Hojan, comments, "We are pleased to recognize Ellen with this promotion for her significant contributions to the organization in her time with the company.  Her leadership, objectivity, and guidance helped HSi navigate the financial implications of the pandemic and has positively positioned the organization for the future."
"Ellen has become invaluable in guiding HSi through tough times, on to good times! She never hesitates to deliver the "tough news" that we need to hear, as well as being forward-thinking with projections and planning," continues, Gerry Bartley, CEO.
"I'm excited about taking on the role of Vice President of Finance with Health Systems Informatics.  It is a pleasure to work collaboratively with this amazing Executive Team in addressing financial challenges and striving to reach the company's long-term goals," Briggs responded.
Berry brings over 20 years of healthcare experience to HSi in the form of leadership, technologies, and delivering quality solutions to the clients he has served.  As he assumes his new role at HSi, Brunk will continue the shared tradition of partnership, introducing new clients to the healthcare information technology solutions HSi provides.
"We look forward to Berry joining the HSi team," says Scott Generazo, Executive Vice President. "His proven record of results coupled with our plan for growth within our organization will allow us to continue to expand our services to different regions."
Brunk expands, "As healthcare provider organizations continue to transform legacy systems and processes, it becomes very clear to them they do not always have enough of the appropriate team members to execute towards the future state of their roadmap.  This is where trusted partners who have the subject matter expertise – like HSi – can provide the resources to expand staff in a cost-effective manner.  HSi's reputation and track record speaks for itself, and I am very pleased to be able to join their team."
About HSi
Now in its 11th year, Health Systems Informatics provides affordable, IT consulting services to a diverse healthcare clientele across the US. HSi is built on a foundation of robust, diverse, healthcare talent and a "clients as partners" business philosophy. With expertise both wide and deep, consultants meet an array of needs such as strategic services, vendor selection management and support, clinical informatics, data and analytics, EHR implementation and support, system and process optimization, meaningful use strategy and execution, project and change management, and legacy system support.
For details about our core services, client case studies, and insight from our consultants, visit the website at hsi-corp.com. Look for HSi on LinkedIn, Facebook, and Twitter.
###
Media Contact:
Danielle Sage
1-844-HSi-CORP (1-844-474-2677)
danielle.sage@hsi-corp.com