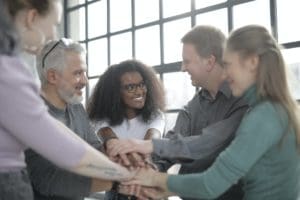 It is difficult to remember the time when the word "zoom" was a sound effect and not a communications platform. The pandemic ushered countless businesses into the virtual workplace, but Health Systems Informatics (HSi) was already there.
Chairman and CEO Gerry Bartley has worked both sides of the digital divide during his long career.
A predecessor company "had an office in Seattle for a couple of years for about 20 people, and no one was ever there," he said. Instead, consultants were traveling, helping clients around the country.
With that in mind, Bartley said when HSi launched 10 years ago, there was no doubt the organization would be a virtual workplace.
"It is more effective, more efficient and preferred by the consultants to live where they want and then fly to their assignment."
The absence of rent and other costs of a brick-and-mortar location are obvious advantages of a virtual workplace, but Bartley said the biggest plus comes in recruiting consultants. "Our market is very competitive," he said. Removing geographic restrictions opened a rich pool of talent benefitting HSi's customers.
The virtual workplace is not without its challenges, Bartley said. Physical proximity facilitates "energy, dynamics, and relationships. The toughest part as a virtual company is how to make (employees) feel like they are a part of our company."
To develop positive working relationships, Bartley and his management partners connect with each consultant regularly, whether they are working from their home or at a client's location.
Every other month, HSi also holds a Town Hall Call with the entire staff via video chat. "We ask them to use the camera so we can see them," Bartley said. And, although postponed recently because of the pandemic, an annual company meeting brings everyone together under the same roof for a few days.
Skill development sessions, client testimonials, and employee presentations are a few of the activities. Bartley also said that, with a little research, it is also a great opportunity to single out employees who are going the extra mile.
As the pandemic continues, HSi is making plans for a virtual open house and 10th anniversary celebration, but Bartley said he is looking forward to being able to shake employees' hands and give them a literal pat on the back in 2022.
HSi is celebrating its 10th anniversary with a series of posts featuring Chairman and CEO Gerry Bartley.  In the final installment, we'll look at how HSi thrives in the virtual workplace.  Missed our previous entries? Find them here: Celebrating 10 Years with a CEO Conversation – Part 1,  Part 2, and Part 3.
About HSi
Health Systems Informatics provides affordable IT consulting services to a diverse healthcare clientele across the U.S. HSi is built on a foundation of robust, diverse, healthcare talent and a "clients as partners" business philosophy. With expertise both wide and deep, consultants meet an array of needs such as strategic services, vendor selection management, and support, clinical informatics, healthcare information and analytics, EHR implementation and support, system and process optimization, meaningful use strategy and execution, project and change management, and legacy system support.
For details about our core services, client case studies, and insight from our consultants, visit the website at hsi-corp.com. Look for HSi on LinkedIn, Facebook, and Twitter.
###
Media Contact:
Danielle Sage
1-844-HSi-CORP (1-844-474-2677)
danielle.sage@hsi-corp.com