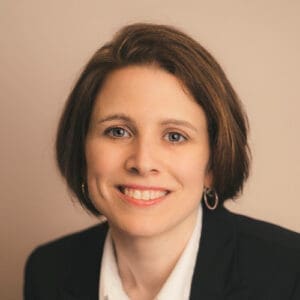 Bainbridge Island, Wash., March 8, 2022— Health Systems Informatics (HSi) is pleased to announce the promotion of Stephanie Hojan to President, HSi, effective immediately.
"During her tenure at HSi, specifically as our Chief Operating Officer, Stephanie has made many impactful changes operationally, while at the same time, contributing to our overall growth.  As we continue our expansion, Stephanie will play a crucial operational role to ensure our success.  Her passion, attention to detail, and deep knowledge of our industry will serve her well as she takes on this new role," said Scott Generazo, Executive Vice President.
Stephanie has been an effective leader in each role and promotion she has been awarded – through ten years with HSi and seven years with the predecessor company, Healthcare Informatics Associates (HIA). Throughout her career, she continues to bring effective leadership and is well respected by her peers and staff.
Gerry Bartley, Chairman and CEO, continues, "After 17 years working together, we are happy to award Steph with the role of President of HSi. Steph's education in business administration and marketing led her to serve as a technical leader at a well-known Midwest healthcare system before taking on numerous roles within HIA and HSi as a consultant and leader, most recently as COO for HSi.
"As a vital part of the HSi executive team, the resilience with which we together survived financially, came through Covid-19, and were able to grow exponentially is credited in part to Steph's decisive approach to leadership. I look forward to many more years of growth and success."
"It is an honor to be asked to take on the role of President of HSi," Hojan remarked. "Having worked with this team for so many years, I know firsthand our organization is made up of incredible talent with a strong desire to serve our customers.  I am excited to lead this organization into the future and help take HSi to the next level."
About HSi
Now in its 11th year, Health Systems Informatics provides affordable, IT consulting services to a diverse healthcare clientele across the US. HSi is built on a foundation of robust, diverse, healthcare talent and a "clients as partners" business philosophy. With expertise both wide and deep, consultants meet an array of needs such as strategic services, vendor selection management and support, clinical informatics, data and analytics, EHR implementation and support, system and process optimization, meaningful use strategy and execution, project and change management, and legacy system support.
For details about our core services, client case studies, and insight from our consultants, visit the website at hsi-corp.com. Look for HSi on LinkedIn, Facebook, and Twitter.
###
Media Contact:
Danielle Sage
1-844-HSi-CORP (1-844-474-2677)
danielle.sage@hsi-corp.com